Layering Styles from the 1930s to 1960s
In my living room I have combined a mid-century modern chair from the 1960s with 1940s barkcloth curtains and a 1930s Hudson's Bay blanket.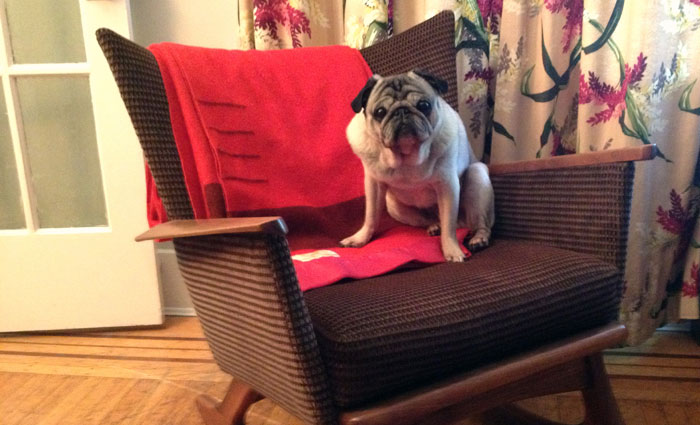 Yes, I love to layer my eras, and it works! The key elements to combining these items are scale, pattern, texture and colour.
The chair works with the other items because it has such clean lines and it's not some huge overbearing piece. Mid-century modern furniture from this era mixes well with other pieces because of its clean lines. The pattern and texture of the chair's fabric is simple and understated so it does not compete against the floral pattern of the curtains. The curtains themselves have a very prominent pattern and colours, but against the brown chair they stand out and again, don't compete. Adding the blanket gives a sense of warmth to the harder curved line of the back of the chair. It's not too big and its simple striped pattern and warm wool texture complement the lines of the chair, while its colour doesn't compete with the curtains.
Mid-Century Modern Furniture
Mid-century modern furniture is a style that was popularized from the mid 1940s to the 1960s. After the Second World War, Danish designers and architects believed that design could be used to improve people's lives. Particular attention was given to creating affordable furniture and household objects that were both functional and elegant. In the 1950s, American manufacturers obtained licenses for the mass production of Danish designs. These items made their way into many living rooms until the late 1960s. In recent years there's been a huge resurgence in this style—as you can see it's easy to combine these well-designed pieces with items from other eras or with your existing decor.
I stole this chair from my parents' house because I always loved it. It was given to my mom by our neighbours when we lived in Montreal in the 1970s. Hmmm…maybe one of my neighbours will pass along something great like this to me?
Barkcloth Curtains
Floral barkcloth curtains were a popular style from the 1940s to 1950s and came in a wide range of colours and patterns. In the 1940s, influenced by North Americans' love for floral prints and Hollywood's lavish 1940s film sets, these designs provided tropical fantasy and fun. Going into the 1950s, the natural elements of leaves and feathers were added. With the advances in mid-century modern design and science, these florals were combined with geometric forms. Eventually, the florals disappeared in favour of the "atomic" look decorated with anything from flying saucers to cocktail glasses. Sadly, by the 1960s, barkcloth faded from the interior design scene. But happily I'm still finding pieces that add nostalgic style to my rooms.
My curtains originally hung in my Nana's house in Penticton, and I'm glad she saved them! For suggestions on how to hang these curtains on modern rods, see my article Barkcloth Curtains – Versatile for Any Room.
Hudson's Bay Point Blanket
These wool blankets were originally traded in the 18th and 19th centuries by the Hudson's Bay Company to First Nations in exchange for beaver pelts. The points originally indicated not only the size but the weight of the blanket. They were woven on the side so that a blanket need not be unfolded to see these facts. Point blankets continue to be sold today, and they hold iconic status here in Canada.
My Hudson's Bay point blanket was given to my Nana as a wedding gift. She was a lucky lady as she received two of these, kept both and passed them down to me. The points (which are those four lines of black woven in on the side) indicate what size the blanket is. This blanket is a double because it has four points (twin size are 3.5 points, queens 6 and kings 8).
If you are interested in a consultation on how to layer eras in your space, please contact me at [email protected] or 604.723.9947.