From Doorbells to Telegraphs
When you get tattooed for a few hours interesting conversations are had about all sorts of things. During my last tattoo, my tattoo artist Chris Hold and I got to talking about vintage doorbells. He was looking for one as they apparently look like tattoo guns. Strangely enough, they do.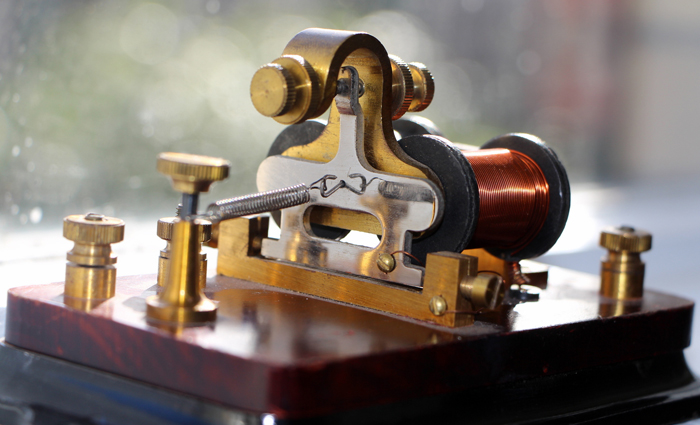 I started the search for a doorbell, however when I saw this piece it instantly reminded me of a bell and a tattoo gun. Doing some research on it, I found out it was an antique telegraph key and sounder that was manufactured by the Signal Electric Manufacturing Company.
The Signal Electric Company was founded in Menominee, Michigan in 1892 as the Menominee Electric and Mechanical Company. They started by manufacturing crank telephone generators, telephones and switchboards. In 1919 they reorganized and renamed themselves as the Signal Electric Manufacturing Company and started making bells, wireless radio instruments, medical batteries, telegraph instruments, electric motors, fans and electric hand tools. The manufacturing of telegraph instruments played a major part in the early success of Signal Electric, as at the time telegraph was the most widely used way of communicating. Random fact: they were the first ones to manufacture a portable wet/dry vacuum with full blowing capabilities. If you're interested in more information on them check out this site.
Indeed I will be keeping a lookout for Chris' doorbell but I love that I never know what I'll come up with when scrounging through a warehouse or an industrial yard. The thrill of an interesting find, learning something new about it and making clients happy are what keep me going. Oh and yes, this telegraph actually works, take a look at Chris' instagram feed to see a video of it in action.
If you are looking to add a piece of industrial vintage to your collection contact me at [email protected] or 604.723.9947.