Pyrex Primary Colour Mixing Bowls
While Vintagey shopping today I found a set of three Pyrex Primary Colour Mixing Bowls.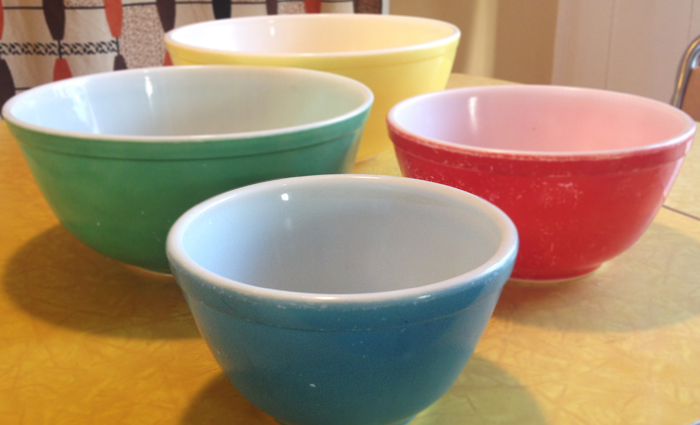 I was excited to find these as I had broken my larger yellow bowl but still had the smallest blue bowl that went with this set. These had come to me via my Nana's kitchen and I'd expect that she'd originally had the full set.
Pyrex was originally created by Corning Glass for a number of industrial applications including lantern glass for railroads. In 1913 Bessie Littleton, the wife of a Corning scientist, asked her husband to bring home some glass to use in place of a broken casserole dish. He gave her the sawed-off bottoms of some battery jars. Thus Pyrex found it's way into the kitchen and became an iconic brand and piece of North American history.
Doing some research I found out that blue and red bowls are from a 1940s set, whereas the other two are from the 1950s – 70s. The 1940s sets were stamped with "T.M. REG." "PYREX" and "U.S. PAT. OFF." The 1950s – 1970s sets were stamped only with "PYREX" and the numbers of the bowls indicating size. Having this knowledge is important when looking at the value of vintage sets.
Pyrex Love is a great place to find more information. They have great photos of pretty much all of the patterns and colours, along with useful tips on how to take care of your vintage pieces.
If you are looking to add a piece of Pyrex to your collection contact me at [email protected] or 604.723.9947.