Dinner at the Savoy Cafe – Dining with Vintage Restaurant Dishes
One of my favourite things to do is to entertain in my home as this gives me the chance to play with all my vintage items and share stories about my collection.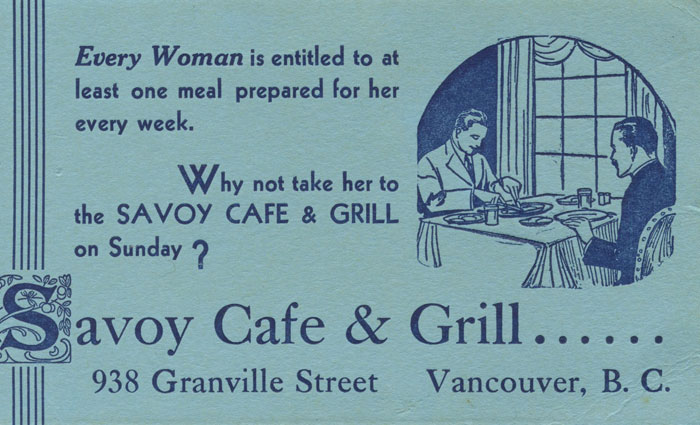 So I jumped at the chance to have new people in my home and at the same time cook for charity when Annika Reinhardt of Social Bites asked me to participate in #dinnerpartyYVR.*
For this dinner, Annika asked us to tell stories about moving to Vancouver. I decided I was going to tell the story about the first people in my family to come here­ from Greece—my maternal grandfather George Burgess and his brother Bill. Bill was the first over, coming to the United States first, then sneaking up across the border into Canada disguised as a priest. In the early 1930s they opened two restaurants, the Savoy Cafe and Grill here in Vancouver, British Columbia and the other in North Battleford, Saskatchewan. The Vancouver Savoy was only open for a few years, but my grandfather ran the one in North Battleford for over 30 years.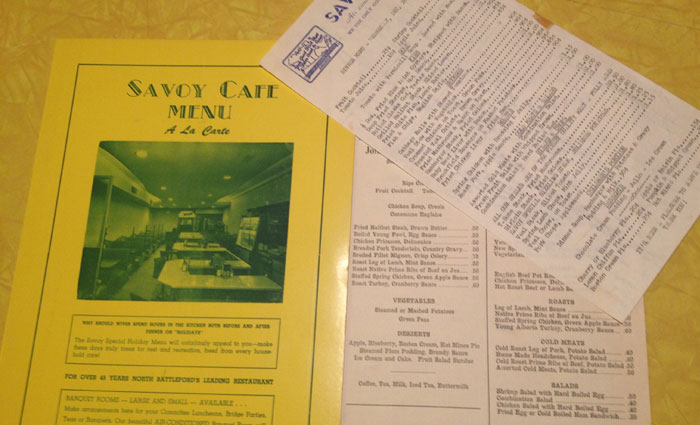 My family stories set, I wanted to construct a menu and put together a table setting that was reminiscent of the Savoy in the 1930s. I consulted my vintage menus and cookbooks for what I was going to feed my guests. I settled on shrimp cocktail paired with citrus collins, roast beef, mashed potatoes, parker house rolls and boston cream pie­—a Savoy Cafe specialty.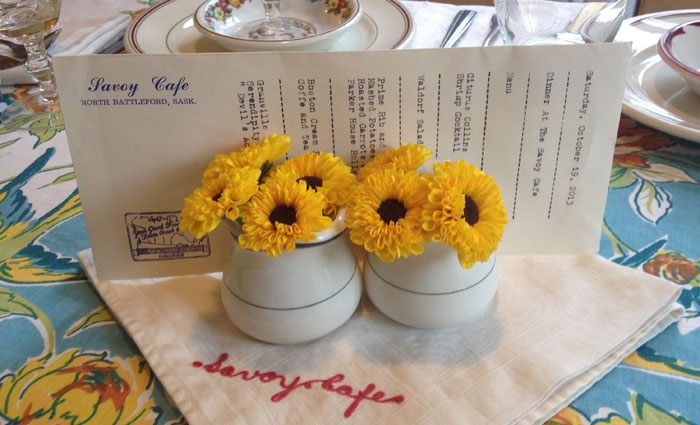 Then it was time to set the table, one of the most exciting things for me to do. I used a selection of my kitchen dishes, silverware and glassware paired with linens from my collection, including the one embroidered napkin I had from the Savoy. Fortunately my Nana saved all of these. When she moved to Edmonton I helped her pack and among the treasures I found were a whole box of never used dinner plates. That was quite the exciting day for me!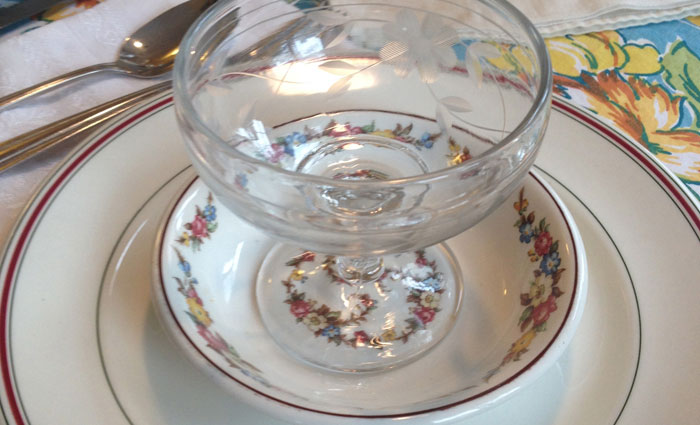 These plates and bowls are all a typical restaurant service for the time. The Savoy had one main dining room downstairs and two upstairs that were available for rent—the Rose Room and the Blue Room. The set of dishes with the red and green lines are from the main dining room and the smaller bowls with the flower pattern are from the Rose Room.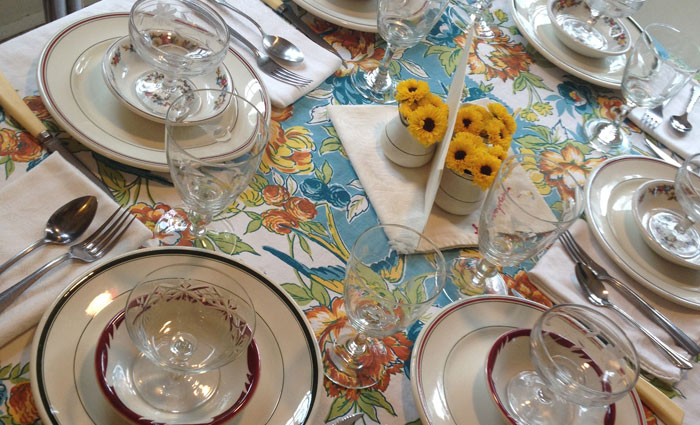 I think it's fun to mix and match your dishes. As you can see in the photos above the plates have different patterns but still work together. They are all the same weights and and vintage, when used together they offer an eclectic look. This dinnerware is extremely sturdy and it's what I use every day. I have a bad habit of dropping things and these have survived many a fall.
I feel you don't need to have a total set of matching dishes. Or really, matching anything in your home. There's endless possibilities for setting your table and sharing your own unique style with your guests.
* The quick run down on #dinnerpartyYVR: Last month, thirty different hobby chefs cooked in their own homes across the city at the same time. Guests bought tickets to their dinner of choice and all the money went to charity. Learn more about this event and Social Bites here.
If you are interested in adding vintage kitchen ware to your home please contact me at [email protected] or 604.723.9947.