Vintage Marquis Letters
Poking around in outdoor vintage industrial yards is always a treat.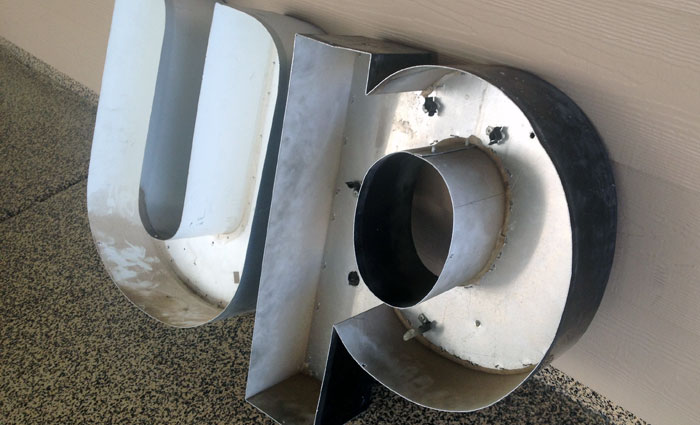 I was on the hunt for vintage marquis letters and ended up in a yard in Phoenix with a great selection. There was a wide range of typefaces, colours and sizes. It was like being a kid in a candy store. I wanted all of them!
But I was there on a job, not an "add to my own personal collection" so I resisted the urge to buy for myself and set out to find the letters that Ben Garfinkel had asked me to look for. He wanted to display them on the wall in the landing at the top of the stairs in his home. At first I was looking for one large letter, but as I was sharing photos of what I found with him, we decided on two letters that would spell a word. Looking through hundreds of letters I found an "up" – quite appropriate for being at the top of that landing. Talking to the owners of this shop, I learned that some letters are harder than others to find. Ps and Bs are rare where as As and Es are easier to find. I also purchased a smaller blue "B" as I loved the typeface and gave it to my friend Barb who's using it as a decor item on her desk.
Ben is planning on painting the exterior of these letters orange and mint green, the interiors white, and putting lights back into them. I can't wait to see how they turn out.
Are you looking for a piece of vintage industrial for your space? If you are I'd love to help you find it. Contact me at [email protected] or 604.723.9947.