Teak Shelves for Matt Oliver
Matt is a social media educator who works from his home office. He has a mid-century modern desk and was looking for shelves to hang above it.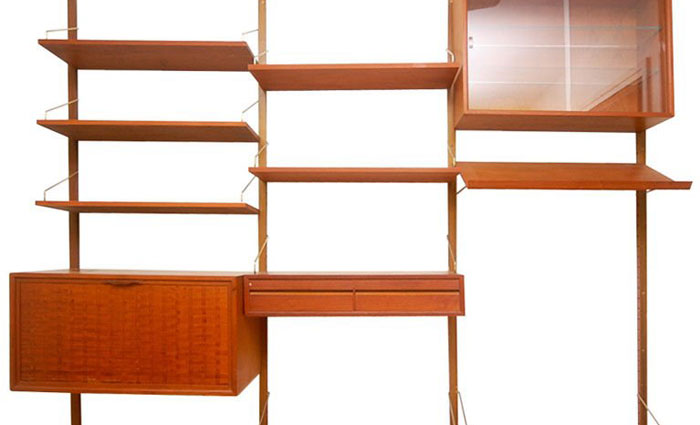 "I've always had a love for vintage and art deco decor and have spent countless hours over the years going to antique markets trying to find lost treasures and vintage items to decorate my home. I don't have time anymore to do the leg work so when I wanted to find some specific teak shelves for my place, I naturally asked for Sylvia's help."
I talked with Matt about the style of shelves he was looking for. He said he had a vision of floating teak shelves. I started by showing him a picture of a Poul Cadovius modular teak shelving unit. It was close, but a little bit too large for his space. Going on the hunt, I found him a set of four floating shelves that anchored into the wall. He loved them.
"Sylvia quickly found the exact shelves that I wanted, sent me pictures and dimensions and even got background information: what they were made of and who made them."
After I looked closely at the quality of the shelves, I told him I was not going ahead with the purchase. I had discovered that they were not solid teak, but plywood with a teak veneer.
"Without Sylvia's research and help, I would have most likely purchased these for the price asked. I later would have realized I paid too much and regretted them. Sylvia guided me through the pros and cons and even some heavy negotiations with the seller. In the end, we decided that these were not the shelves for me."
I strive to find my clients the perfect item. If I don't think I've made the right find, I continue the search. I'm still on the hunt for the perfect shelves for Matt!
"I know with Sylvia's help I'll get the shelves I want for the price I want to pay and I will enjoy my shelves for the years to come."
If you are interested in adding a piece of vintagey mid-century modern to your space, please contact me at [email protected] or 604.723.9947.